When we asked our designer Alexandre Dubreuil to come up with a modular storage system capable of housing our vinyl record collections, we couldn't have imagined the result. He went above and beyond by creating a system featuring two modules, each with an internal height of 32 cm (12.5", perfect for storing our precious LPs). The modules stack as easily as Lego bricks, making them adaptable to hi-fi setups and record collections of all shapes and sizes.
But our designer went even further. He took on enemy No. 1 of audiophiles everywhere: unwanted vibrations!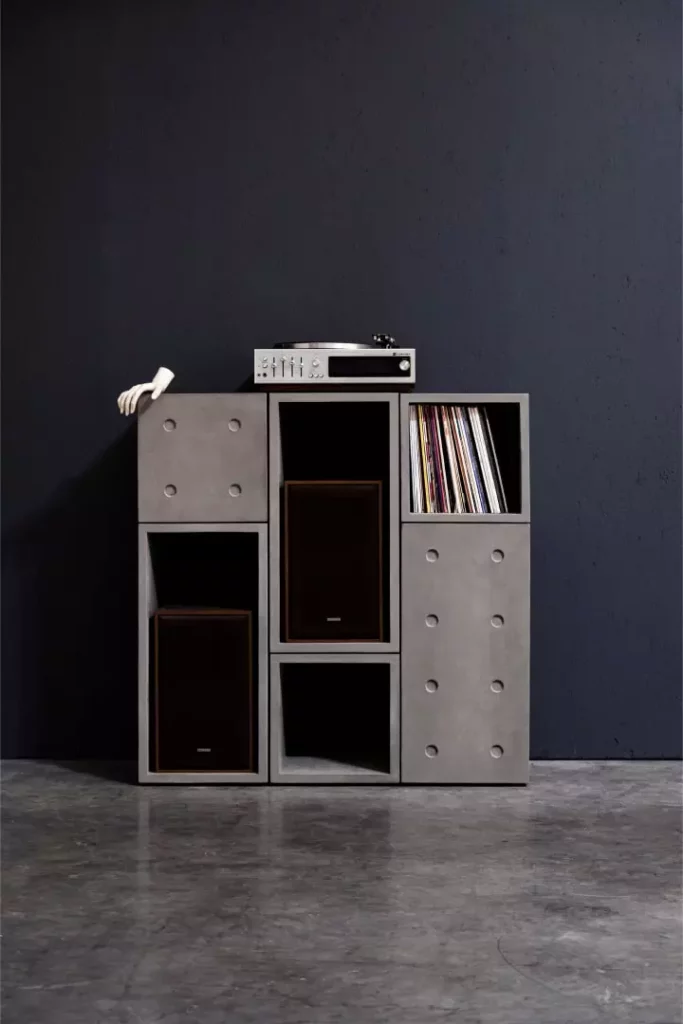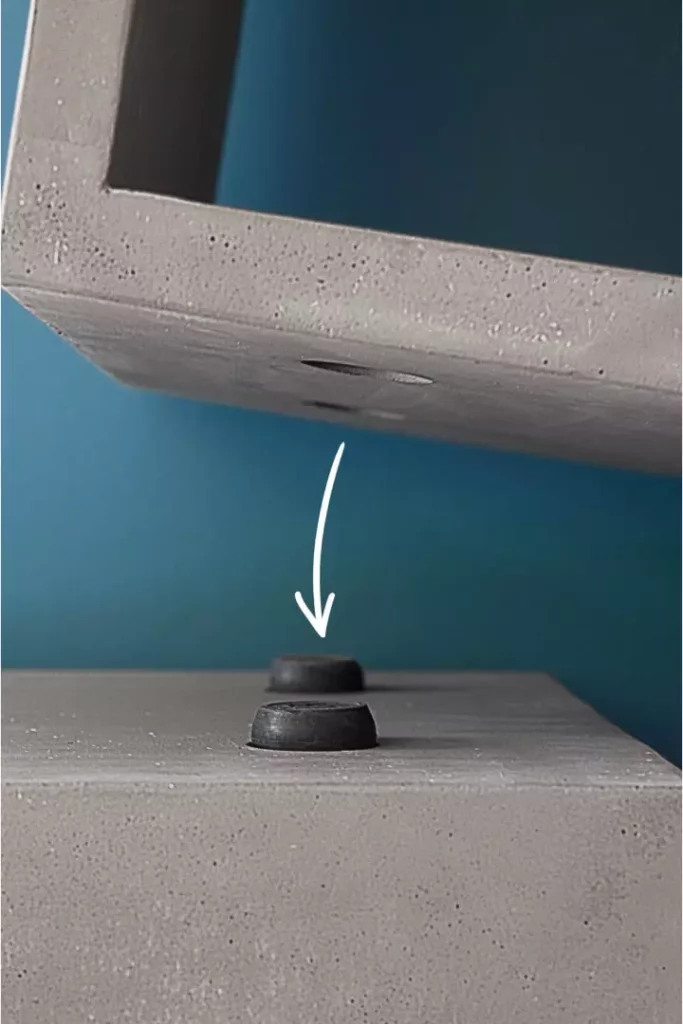 The anti-vibration combination

When it comes to reducing unwanted vibrations, concrete is a good place to start. It is sturdy, dense, heavy. Marble works just as well, but that's not our specialty at Lyon Béton. Rubber connectors add extra stability and help absorb vibrations by creating a buffer between furniture and floor and between the individual concrete modules. This pairing of sturdy and flexible elements will significantly improve the sound quality of your hi-fi setup. Such a robust furniture system is particularly well adapted to lightweight turntables like the Pro-Ject T1.
With just 2 or 3 modules, you can create a storage solution for your hi-fi sound system, your turntable and more than 200 LPs.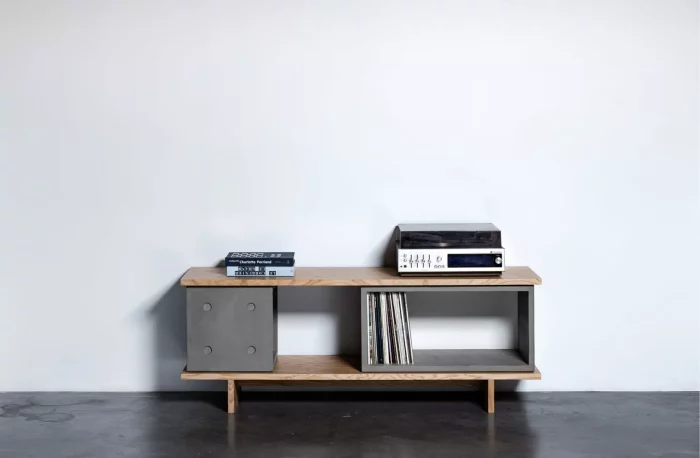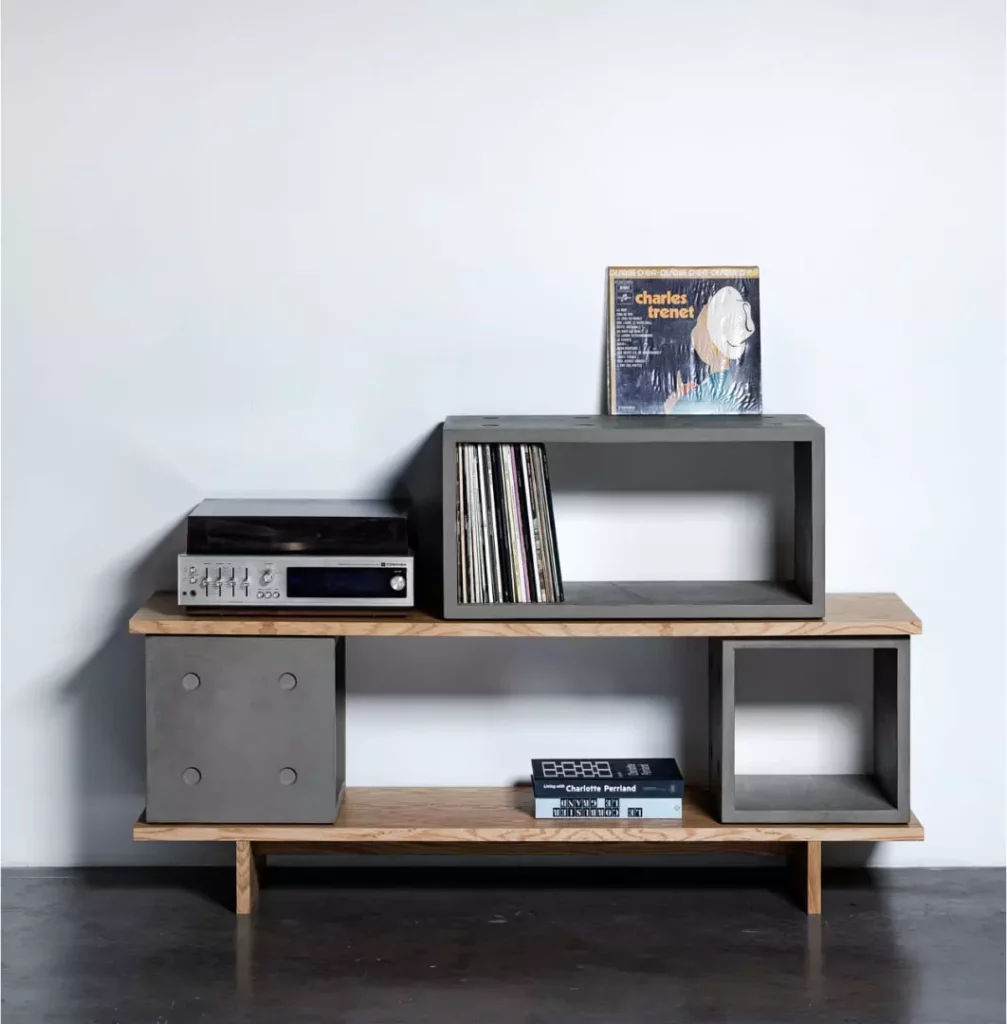 Use the extra space to keep a bottle or two of gin, to go with the Coltrane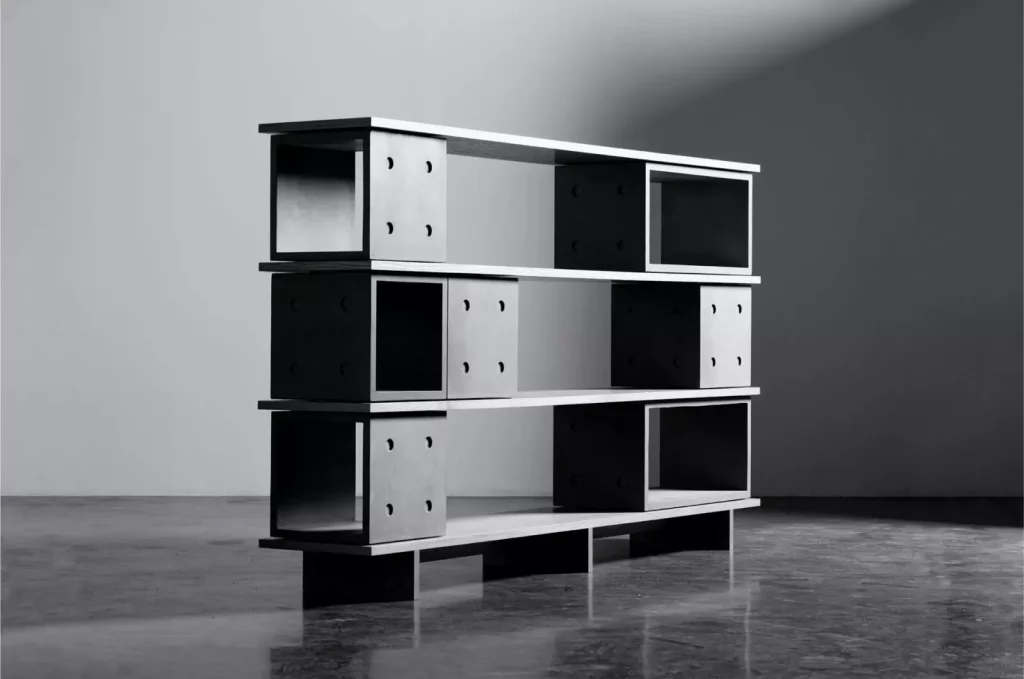 Let's talk storage?

The larger module has an internal width of 69 cm (27"). Large enough to house a top-notch amplifier, with room left over to keep it from overheating and for you to easily reach the jacks. The internal height is 32 cm (12.5"), which provides plenty of headroom for storing hi-fi components or vinyl records. This rectangular module can hold more than 200 LPs. The cubical module holds about 100.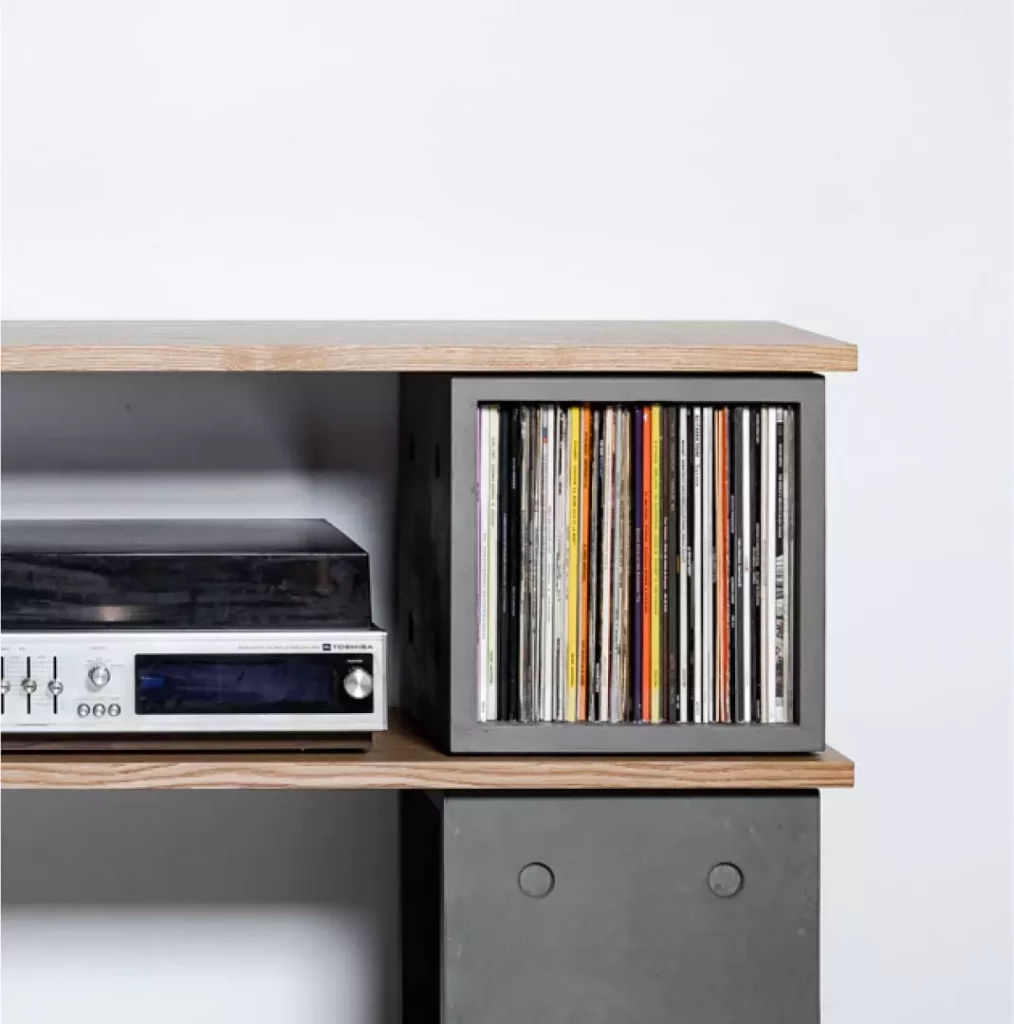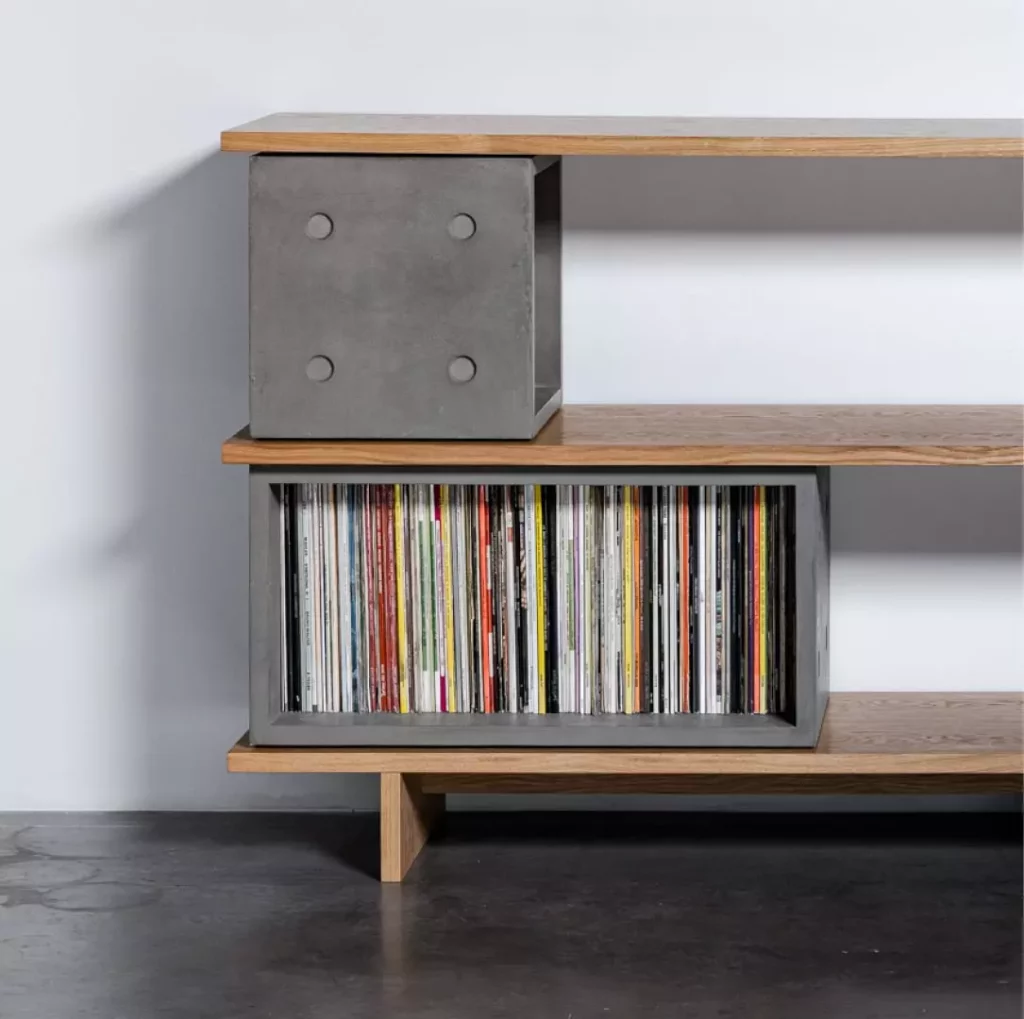 The solution for vast LP collections

If you have a collection the size of Cut Chemist's but aren't ready to commit 100% to concrete, our designer has the solution for you. Our designer has come up with a system of bases and natural oak veneer shelves, inspired by Charlotte Perriand's iconic cabinetry, that combines seamlessly with the concrete modules. Your modules will transform into a furniture centerpiece, with a more pronounced style and even more storage space.
Here is our special hi-fi series of lowboards, sideboards and bookcases.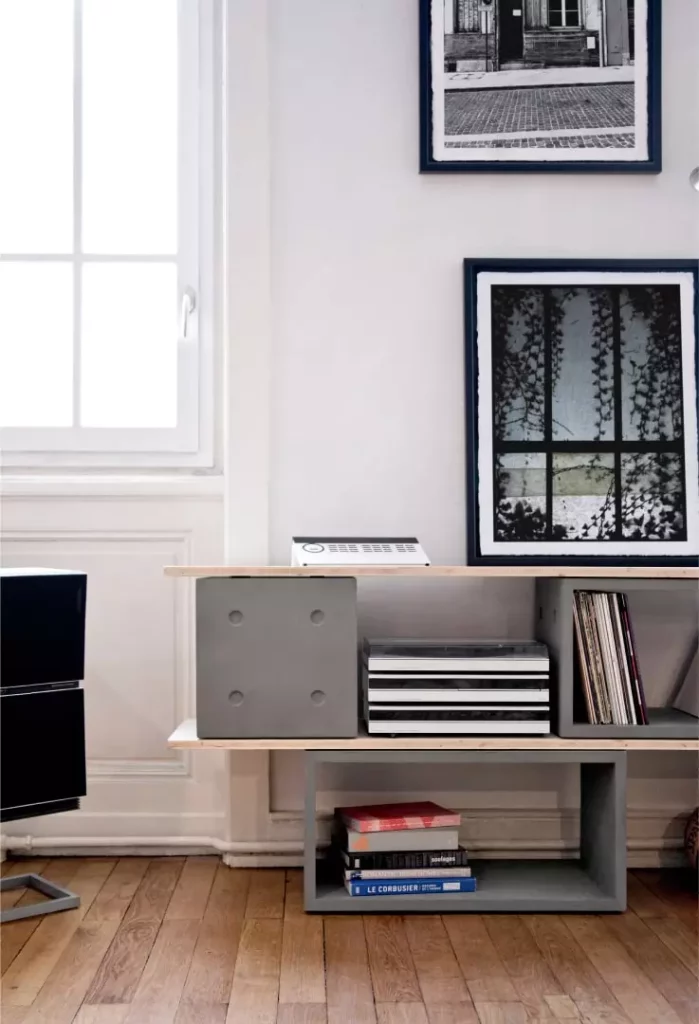 Of course, if you'd like to pair your concrete modules with something other than wood, or if your interior design project requires shelves with specific dimensions, give us a call and we'll be happy to help you put together your custom home furnishing.
Style inspired by modern architecture.
At last, a hi-fi stand that's both practical and stylish

Thanks to its understated, architecture-inspired design, this hi-fi and LP storage solution has an exceptionally high WAF. And that's pretty rare when it comes to sound-system furniture.